Headstring News
Wiseman Will Face Jones in GenPool Final
Jun 12, 2008, 12:32 AM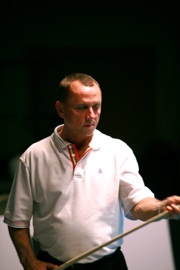 Ronnie Wiseman will meet Jeremy Jones, and Xiaoting Pan will face off against Ga Young Kim in the finals of the GenerationPool.com 9-Ball Championships on Thursday in Charlotte, N.C.

Wiseman trumped Johnny Archer, 7-6, in a barnburner semifinal on Wednesday afternoon that ended with a tense argument between the opponents over alleged sharking tactics. Leading 6-4 and with the cue ball just millimeters from the object ball, Wiseman drew a bead on the side pocket and raised up for the shot. Just then, Archer interjected with a question for tournament director Steve Tipton about the rules regarding such tight shots. Forced to retake his stance, Wiseman missed. Archer eventually won the rack and the next to tie the score, 6-6.

During the break just before the final rack, Archer attempted to apologize to Wiseman for his ill-timed question. Wiseman refused the apology. After the match concluded, the two got into a short spat about the matter.

"That was an ugly move," Wiseman said, believing that Archer had tried to shark him. Archer conceded that his timing was poor, but maintained that he wasn't trying to queer the shot.

Jones earned his spot in the final with a convincing 7-4 win over Shawn Putnam in the semis on Wednesday evening. Jones took advantage of Putnam's sloppy play, including a miss on the 9 ball at 6-4 that essentially handed him the match.

"I want to curl up and cry," Putnam joked after the match. "He [Jones] just played better than me."

In the first women's semifinal, Pan bested 20-year-old Anna Kostanian, who had eliminated top-ranked Allison Fisher in the quarterfinals. Kostanian played catch-up for most of the semifinal match, winning three straight racks to forge a 4-4 tie. But her momentum died in the ninth frame, when she was called for a shot-clock violation that gave Pan ball in hand. Pan navigated the next three games for a 7-4 victory.

Kim had an even easier time with Austrian phenomenon Jasmin Ouschan in the other semifinal. Kim had her share of misses, but Ouschan often was left with nothing to work with. With Kim leading 6-2, the two opponents traded misses on the 6 ball for a couple innings before Kim could corral the ball and run out for the victory.

Korea's Kim and China's Pan have been posited as the leaders of the so-called "Asian Invasion" in women's pool. For her part, Kim was not intimidated by their pending matchup.

"I'm not scared of anyone," she said.

The GenerationPool.com 9-Ball Championships are presented by the Billiard Congress of America, and the finals will take place in conjunction with the opening day of the BCA's International Billiard & Home Recreation Expo, also in the Charlotte Convention Center.