Headstring News
Carolina Blue: Expo Numbers Drop in Charlotte
Jun 16, 2008, 6:45 PM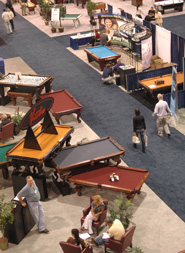 The aisles in Charlotte had no trouble handling traffic.
The 2008 Billiard Congress of America International Billiard & Home Recreation Expo closed up shop at 4 p.m. on Saturday afternoon at the Charlotte (N.C.) Convention Center. On Sunday, June 15, the attendance figures were released.

As expected, the 2008 BCA trade show saw a significant drop in the total number of exhibitors and total booths occupied.

The number of exhibitors was 178, down from 234 in both 2006 and 2007. More significant than this 24-percent dip was the decrease in the number of booths these exhibitors occupied. The 2008 show counted 628 booths, compared to 1,272 at the 2006 show in Houston and 1,003 at last year's expo in Las Vegas.

The 50-percent decrease in booths since 2006 proves quite troublesome for the BCA, which relies on revenue generated from booth sales as a significant source of yearly revenue. The slumping billiards industry and national economic downturn appeared to be major factors in the sparsely attended show.

"While we would have liked to have a larger show with respect to exhibitors and attendees, we are not surprised with the results given the difficult economy our members are currently facing," said Ivan Lee, co-chair of the Expo and former president of the BCA Board of Directors. "However, we believe those in attendance benefited via the business opportunities and relationships forged on the show floor and by participating in the Business of Billiards seminars and special events."

While the number of buyers at this year's Expo was unclear, the BCA announced 1,111 as the total attendance figure. If this is in the ballpark of the total buyers, it represents nearly a 50 percent drop from the 2,156 buyers that walked the floor at the 2007 show.

At the general membership meeting before this year's show, the BCA announced it had secured Las Vegas — typically the best-drawing location for the show — through 2012. The 2009 show is scheduled for June 25-27 at the Sands Convention Center.