Headstring News
Dragon Promotions, Lucasi to Host Invitational
Jun 19, 2008, 11:17 AM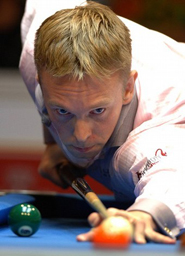 Jacksonville resident Hohmann will have the hometown advantage.
Dragon Promotions has announced that it will host a multi-discipline professional invitational event at Bankshot Billiards in Jacksonville, Fla.

Set for July 30-August 3, the Lucasi Hybrid Invitational Classic will host 48 of the world's top players, competing in 10-ball and straight pool. Cue & Case, creator of the Hybrid line of cues, will be the title sponsor, and OzoneBilliards.com will be the presenting sponsor.

"Dragon Promotions started out based in Florida, and that's where our first event was produced. Cue & Case is one of the oldest and biggest companies in the industry, and being based in Florida it's a perfect fit for the event," explained Cindy Lee, CEO of Dragon Promotions. "We feel it's good to stay loyal to the fans who have supported our Florida events for the past eight years."

Invitations will be extended to world-class players such as Ronnie Alcano and Dennis Orcollo of the Philippines, Finland's Mika Immonen, Raj Hundal, Americans Mike Davis and Charlie Williams, and Thorsten Hohmann, a Jacksonville resident by way of Germany.

Coinciding with the pro event, the Third Annual OzoneBilliards.com U.S. Amateur Open will take place. The amateur events will have 8-ball and 9-ball divisions with different competitions men, women, seniors and mixed doubles.

The Fourth Annual World Junior 10-Ball Championships will also take place at Bankshot Billiards on August 2-3. All total, there will be 10 events over five days at the Jacksonville poolroom.