Headstring News
Big Weekend on East Coast Tours
Jun 23, 2008, 1:21 PM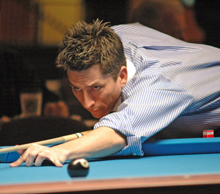 Moore's 17th cash of the year was also his biggest.
Stevie Moore, one of the most active professionals in the game today, snapped off his biggest payday of the year by winning last weekend's stop on the Seminole Pro Tour.

At Diamond Billiards in Cape Coral, Fla., Moore navigated a bracket full of talented shooters. He posted wins against Chris Bartrum, Sparky Ferrell, Jason Kirkwood and Justin Hall to take a place in the hot-seat.

Ferrell, meanwhile, caught fire after his loss to Moore. He eliminated seven straight opponents — including Corey Deuel and Donnie Mills — to earn another shot at Moore.

Ferrell, who won March's Seminole Tour stop, couldn't keep up in the race-to-9 final. Moore coasted to a 9-2 victory for the $3,000 first prize.

On the Predator 9-Ball Tour, Tony Robles won his second straight event. At Rack 'n' Roll Billiards in Stamford, Conn., 51 players gathered for the $1,000-added event.

Fresh off strong performances at the GenerationPool.com 9-Ball Championship, WPBA stars Ga Young Kim and Xiaoting Pan made their first appearances on tour.

Pan won her first three matches before being sent to the one-loss side by Robles. The highest finishing woman, she ended up in ninth place, putting her in the money.

Robles was on fire on the right side, moving into the hot-seat match against Mika Immonen. The Finnish superstar coasted to a 9-3 win.

In the one-loss final, Robles faced Shin Park. Amazingly enough, Park owned Robles up to this point, winning the last nine times these two matched up.

The 10th time was a charm for Robles. He advanced into the final with a 9-5 win.

In the single-set final, Robles and Immonen split the first eight racks. Benefiting from a bit of necessary luck, Robles lucked in four balls in the next two racks to take a 6-4 lead. He then closed out the match, 7-5, for his second win in as many weeks.