Headstring News
Robles Tops Boyes at IPT Challenge
Jun 25, 2008, 12:12 PM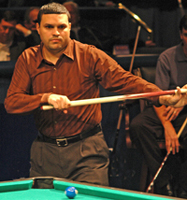 Robles took advantage of a last-minute invite with a 15-12 victory.
Tony Robles made his debut appearance in the International Pool Tour's Ultimate 8-Ball Series last night, flying across the country to fill in for Alex Pagulayan, a last-minute scratch due to complications with his passport.

Facing England's rising star Karl Boyes, Robles made the most of the opportunity, pulling away late for a 15-12 victory in the one-on-one match that was streamed live over the IPT's Web site.

Boyes and Robles split the first 16 racks in the most competitive of the IPT's challenge matches. Stringing three racks together, Robles began to assume control of the match. Boyes climbed within a rack at 12-11, but Robles responded by taking the next two to get on the hill.

Boyes took the next rack but scratched on the break. Robles calmly cruised through the open table for the victory.

Before the 8-ballers took to the table, Hall-of-Famer Mike Sigel squared off with John Schmidt in the IPT's second straight-pool match. Sigel began the quick race-to-125 with a run of 60, but "Mr. 400" Schmidt took briefly took the lead after running 59, his high run of the match.

Sigel, however, had one big run left in him. He strung together 64 to close out the match, 125-73.