Headstring News
Blockbuster Matches on Tap at Great Lakes Classic
Jun 27, 2008, 1:22 PM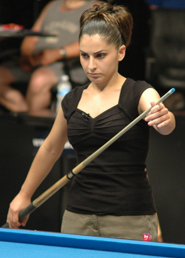 Kostanian aims to improve on her semifinal finish at the GenerationPool.com event.
MICHIGAN CITY, Ind. — High-profile matches are guaranteed at the WPBA Great Lakes Classic on Friday night as the 16 players left in the winners bracket all face off in 8 p.m. matches, including No. 1-ranked Allison Fisher vs. Vivian Villarreal and up-and-comer Anna Kostanian against tour veteran Dawn Hopkins.

The major surprise from the first round of play on Thursday was the defeat of 14th-ranked Jasmin Ouschan at the hands of another, lesser-known international star, Yu Ram Cha of Korea. Ouschan, a semifinalist at the GenerationPool.com 9-Ball Championships earlier this month, departed for the one-loss bracket after the 9-8 shocker. Then Yu Ram Cha joined her with a 9-8 loss in the second round to Sarah Rousey.

The top five women on tour — Allison Fisher, Ga Young Kim, Xiaoting Pan, Karen Corr and Gerda Hofstatter, respectively — advanced to Friday's evening matches with little trouble. Joining them was 20-year-old Kostanian, the quickly improving newcomer who recorded a best-ever semifinal finish at the GenerationPool.com event. To reach the third round, the No. 8-ranked Kostanian first polished off Megan Minerich, 9-3, and then Hall-of-Famer Ewa Laurance, 9-5.

Friday's evening matches in the winners-bracket will include Hofstatter vs. Jeanette Lee, Corr vs. Helena Thornfeldt, Pan vs. Monica Webb, and Kim against Rousey.

The Classic Tour's third stop of the season is taking place at the Blue Chip Casino in Michigan City, Ind. The semifinals and finals will take place Sunday. Updates and brackets are available at www.wpba.com.