Headstring News
Combos Keep Fisher in Winners Bracket
Jun 28, 2008, 10:55 AM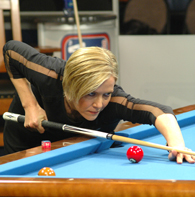 Fisher combined guile with guts in her third-round win against Villarreal.
MICHIGAN CITY, Ind. — Allison Fisher used two combinations on the 9 in a tight match on Friday against Vivian Villarreal to reach the final 16 in the WPBA's Great Lakes Classic.

The third-round match in the winners bracket was a nailbiter as the foes battled to 6-6. But Fisher, the Classic Tour's top-ranked player, pulled ahead with two consecutive 9-ball combos to go up 8-6. Villarreal won another game, but missed a tough shot in the 16th game to hand the match to Fisher, 9-7.

A mix of tour veterans and rising stars populated the eight remaining winners-bracket spots as play concluded Friday night: Allison Fisher, Anna Kostanian, Jeanette Lee, Karen Corr, Xiaoting Pan, Kelly Fisher, Sarah Ellerby and Ga Young Kim.

Kostanian, the 20-year-old newcomer from Albuquerque, continued to impress on Friday with her 9-4 victory over veteran Dawn Hopkins. Lee, coming off of surgery last month, appeared to be back on track with a 9-5 victory over the revivified Gerda Hofstatter.

The action Saturday afternoon is expected in the one-loss bracket, as 16 players are set to compete for the eight remaining slots in the final 16 overall. The tournament will then transition to single-elimination in the evening rounds.

Loser-bracket matches to watch Saturday afternoon include the surprising Yu Ram Cha of Korea vs. Helena Thornfeldt, and Austria's Jasmin Ouschan against Monica Webb.

The semifinals and final are scheduled for Sunday afternoon at the Blue Chip Casino in Michigan City, Ind. Brackets are available at www.wpba.com.