Headstring News
U.K. Go: Corr, Ellerby and both Fishers in Semifinals
Jun 29, 2008, 2:16 AM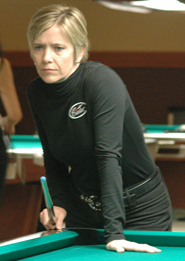 Fisher came one ball from pitching a quarterfinal shutout.
MICHIGAN CITY, Ind. — Allison Fisher will face Karen Corr and Kelly Fisher will square off against Sarah Ellerby in an all-U.K. semifinals of the WPBA's Great Lakes Classic on Sunday.

The tournament's final eight players met in the quarterfinals at 10 p.m. Saturday in the Blue Chip Hotel & Casino. The first match to finish was between Allison Fisher and 20-year-old upstart Anna Kostanian — a rematch from the quarterfinals of the recent GenerationPool.com 9-Ball Championships, in which Kostanian knocked out the Classic Tour's No. 1 player.

Fisher served up some serious payback Saturday, taking control of the match from the outset and not letting go until building an 8-0 advantage. After Fisher barely missed a table-length slow-roller on the 5, Kostanian ran out and logged her first game on the headstring — only to break dry in the 10th game and watch Fisher run out for the win.

Fisher said she felt back in form after a shaky performance at the GenerationPool event. "That was from the golden days," she joked about her dominating performance Saturday.

In other quarterfinal action, Kelly Fisher squeaked past GenerationPool winner Xiaoting Pan, 9-8; Corr beat Jeanette Lee handily, 9-6; and Ellerby eliminated Monica Webb, 9-6.

Sunday's semis promise yet another entry in the longstanding rivalry between England's Allison Fisher and Ireland's Corr. Brits Ellerby and Kelly Fisher round out the across-the-pond foursome.

The semifinals will begin at 1 p.m. EST Sunday, with the final scheduled for 5 p.m. Brackets are available at www.wpba.com.