Headstring News
Great Shakes: Allison Fisher Wins 53rd WPBA Title
Jun 29, 2008, 9:27 PM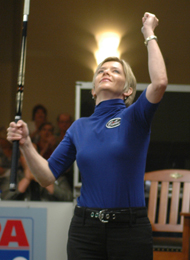 Allison Fisher reveled in the moment after sinking the final 9 ball.
MICHIGAN CITY, Ind. — The seeds of Allison Fisher's title victory on Sunday evening at the WPBA's Great Lakes Classic were sown in the early racks of the final, as opponent Kelly Fisher scattered a couple of balls that could have given her a commanding 4-0 lead.

Leading 2-0, Kelly missed fairly straightforward shots on the 4 and then the 6 in the third rack, allowing Allison to run out. In the next game, Kelly's safe on the 2 ball went awry, leaving Allison another runout.

Match tied, 2-2. It was a new ballgame, and Allison — the Classic Tour's No. 1-ranked player — bided her time.

"I felt quite settled in the match," she said, after winning her 53rd Classic Tour title and her second in three events this season. "I just kept very patient, and she made a couple of errors that I capitalized on."

At 4-4, Allison executed a devious safe on the 4 ball, burying the cue ball in a corner behind the 8. Kelly fouled on her next attempt, leading to a runout for her opponent. Allison broke and ran out in the next rack. In the deciding game, Kelly bobbled a 1 ball along the head rail in an attempt to force the cue ball downtable. Moments later, Allison had run out for the 7-4 victory.

"I feel like I gave a few racks away that kind of turned it around for me," Kelly said about the losing her early advantage. "Then, I had a couple of misses, and you can't do that."

Sunday's semifinal matches at the Blue Chip Casino & Hotel began with Kelly Fisher's 7-5 victory over fellow Brit Sarah Ellerby. Fisher broke open the evenly played match with a swift runout in the 11th game to make it 6-5. Ellerby was a hair's breadth from forcing a deciding rack, but hung the 9 ball in a corner pocket. Fisher dropped the offending ball for the victory.

The second semifinal featured yet another edition of the longstanding rivalry between Allison Fisher and Karen Corr. Playing catchup throughout the match, Corr failed to convert a 2-9 combination in the 10th rack that would have tied it, 5-5. After Fisher took a 6-4 lead, Corr had the break in the next rack (in the alternating-break format) but failed to sink a ball. Fisher calmly speared a table-length shot on the 1 and proceeded to navigate the layout for the 7-4 victory.