Headstring News
PoolDawg Signs WPBA's Schjodt as Player Rep
Jul 7, 2008, 1:33 PM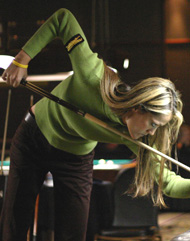 Schjodt will represent PoolDawg while competing in pro events.
LAFAYETTE, Colo. — PoolDawg, a leading online retailer of billiard and gameroom equipment, has inked a sponsorship deal with WPBA touring pro Debbie Schjodt, currently ranked 19th on the women's Classic Tour. She will represent PoolDawg at upcoming pro pool events, such as the WPBA's U.S. Open later this month.

"We are delighted to have Debbie as part of our team," said Mike Feiman, PoolDawg's director of marketing. "Debbie is not only a great pool player, but she fits perfectly with PoolDawg's brand identity. In searching for a player rep, we were looking for someone who not only was a good pool player, but also someone who was approachable and would chat with fans. Debbie is exactly what we were looking for."

The deal is a coup for Schjodt in the current economic climate and as player-sponsorship deals in the billiard industry dwindle overall.

Born in South Korea, Schjodt turned pro in November 2007. In addition to her top-20 ranking in the WPBA, Schjodt finished 2007 as the top-ranked player on the Ladies Spirit Tour.