Headstring News
1980s Promoter Joe Kerr Passes Away at 63
Jul 8, 2008, 3:28 PM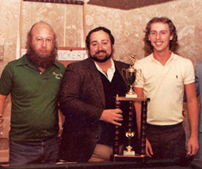 Kerr, promoter of the Akron Open, is flanked by 1982 winner Earl Strickland (right) and runner-up Howard Vickery.
Joe Kerr, one of the game's top tournament promoters and directors during the 1980s, passed away Sunday, July 6, in his hometown, Akron, Ohio. He was 63. Kerr had been battling Myasthenia Gravis for the last 18 years of his life.

Prior to being diagnosed with the degenerative muscle disease in 1992, Kerr was one of the game's most respected — and busiest — tournament promoters/directors. A marketing and communications major at the University of Akron, Kerr spent nearly 20 years working in the men's clothing business in Akron. His developed a passion for pool in the late '70s, and joined the Men's Professional Billiard Association in the early '80s. A better-than-average player, Kerr won several satellite tournaments before turning his attention to tournament promotion. For nearly a decade, Kerr ran a pair of events that became tour staples — the Akron Open and the Ohio State Championship. He also directed more than 250 tournaments under his Joker Promotions banner.

Known as a "player's promoter," Kerr was elected to the MPBA board of directors, and served as Executive Director of the player's association.

"Joe wanted to be a successful promoter," recalled Billiard Congress of America Hall of Famer Buddy Hall, who played in most of Kerr's Akron tournaments, "but he was even more interested in doing right by the players. All of his tournaments were well run and organized. You never heard complaints from the players."

"He was a great tournament director," echoed former National Billiard News publisher Conrad Burkman, a longtime friend of Kerr. "Everything always ran smoothly. And he was promoting one-pocket and bank tournaments before they were fashionable."

"Joe handed me a lot of checks and trophies," added Earl Strickland, who won numerous Akron Open and Ohio State titles. "He was an excellent tournament director. He showed no favoritism, and he was always fair. I'll miss him."

Kerr is survived by his parents, Leslie and Theresa Kerr, his daughter, Jodi Noelle Carnathan, a son, Joseph Robert Kerr, and three grandsons.

Memorials may be made in Kerr's name to the Ohio Chapter of the Myasthenia Gravis Foundation, 2907 Lincoln Way E, Unit B, Massillon, OH 44646.