Headstring News
ESPN to Air Six Hours of GenPool Action Saturday
Jul 18, 2008, 1:07 PM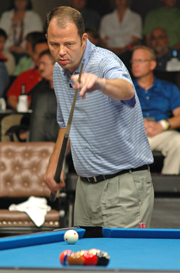 Jones broke into the GenPool finals with a win over Putnam.
Pool fans will be able to watch six consecutive hours of championship pool on Saturday afternoon as ESPN airs the semifinal and final matches of both the men's and women's divisions of the GenerationPool.com 9-Ball Championships.

The broadcasts will begin at noon, Eastern Standard Time, with the two semifinal matches of the men's division, followed by the final between Jeremy Jones and Ronnie Wiseman at 2 p.m. The women's semifinals will kick off at 3 p.m., with the final between Xiaoting Pan and Ga Young Kim set for 5 p.m.

Here's the lineup:

Noon - 1 p.m. — Men's Semi-Final 1: Johnny Archer vs. Ronnie Wiseman
1 p.m. - 2 p.m. — Men's Semi-Final 2: Shawn Putnam vs. Jeremy Jones
2 p.m. - 3 p.m. — Men's Final: Ronnie Wiseman vs. Jeremy Jones
3 p.m. - 4 p.m. — Women's Semi-Final 1: Anna Kostanian vs. Xiaoting Pan
4 p.m. - 5 p.m. — Women's Semi-Final 2: Jasmine Ouschan vs. Ga Young Kim
5 p.m. - 6 p.m. — Women's Final: Xiaoting Pan vs. Ga Young Kim

One match of particular interest will be the dramatic semifinal contest between Wiseman and Archer at noon. On the hill and leading, 6-4, Wiseman was about to stroke a tight shot on the 5 ball when Archer interrupted to ask the referee about the potential for fouling on the shot. Rattled by the interruption, Wiseman missed the shot, refused to accept Archer's apologies, and later accused him of sharking. We'll see how much of that friction is reflected in the broadcast.

Viewers also can see the first national TV appearance of Anna Kostanian, the 20-year-old phenom who is quickly staking a claim among the top American players. She makes a game effort against world-champion Pan in their 3 p.m. semifinal.

The matches were taped on June 11-12 at the Charlotte (N.C.) Convention Center.

Produced by the Billiard Congress of America, the Championships were sponsored by Olhausen Billiard Mfg. Inc., Fury Cues, Darafeev Resort Furniture, Aramith Billiard Balls, Delta-13, PoolDawg, the American Poolplayers Association, CueSight and Sterling Gaming, which arranged the pro-tournament debut of Milliken SuperPro pool cloth at the event.