Headstring News
Semis Kick Off at $125K Sang Lee International Open
Jul 24, 2008, 12:33 PM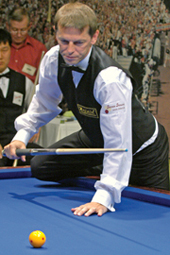 Blomdahl cruised to 2-0 in the semis on Wednesday. [Photo: Joe Ratke]
The starting field of 86 has narrowed to 40 of the greatest three-cushion players in the world at the 2008 Sang Lee International Open, featuring an impressive $125,000 prize fund.

The semifinals kicked off on Wednesday at the Carom Café in Flushing, N.Y., with four round-robin groups of 10 players each. Through their first two matches in the semis, the four top-seeded players — Frederic Caudron and Roland Forthomme of Belgium, Turkey's Semih Sayginer, and Torbjorn Blomdahl of Sweden — appeared to be in good shape.

Defending champion Caudron lost a 40-38 nailbiter to Duek-Hee Hwang, but posted a 40-4 blowout against Don Sperber to earn a 1.950 grand average over two matches. Sayginer went 2-0 with victories against Dan Kolacz and Bert van Manen, 40-12 and 40-21, respectively. His grand average was a sharp 2.162.

Forthomme endured a 40-39 heartbreak against Peter Ceulemans, but handled Frederik Nielsen easily, 40-10 — accruing a 1.254 average. Blomdahl cruised in victories over Seong-Choi Kim and Joel Switala, 40-34 and 40-28, respectively, for a grand average of 1.455.

The highest grand average in the semis so far belonged to Tayfun Tasdemir of Turkey, who had posted an impressive 2.286 in two blowout victories. Tasdemir also had the highest run so far in the semis, running 11 points against Bahattin Gundogdu.

The top 20 players from the semifinals will make the finals, divided into an "A" group of the top 8 players, with the remaining 12 dropping to a "B" bracket.

The finals will kick off on Saturday and run through Sunday, with the top player in the "A" bracket receiving $25,000.

The $125,000 prize fund is a $45,000 improvement over the 2007 tournament, and makes the event one of the richest tournaments on the U.S. calendar this year, for either pool or caroms.

You can follow results at the tournament through its Web site at http://www.sangleeinternational.com/2008.html . The site includes a live Web cam.