Headstring News
It's Do-Or-Die in Sang Lee Semis
Jul 25, 2008, 9:46 AM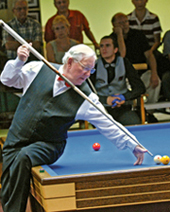 Ceulemans was still in the mix with a 4-1 record. [Photo: Joe Ratke]
Top seeds Semih Sayginer and Torbjorn Blomdahl were among six carom players remaining undefeated through Thursday in the semifinal round of the 2008 Sang Lee International Open.

The final cut will come Friday night, with the top 20 players moving on to the ultimate round of the $125,000 three-cushion event.

The 40 players in the semifinals at Carom Café in Flushing, N.Y., are divided into four brackets of 10 each for round-robin play. Through Thursday, they each had completed five race-to-40 matches, with four remaining on Friday.

Those with unblemished records through five matches were Blomdahl (Sweden), Sayginer (Turkey), Tayfun Tasdemir (Turkey), Javier Teran (Ecuador), Martin Horn (Germany), and relative newcomer Duek-Hee Hwang.

The strongest player so far appeared to Tasdemir of Turkey, who posted a blistering 2.247 grand average in five victories — four of them blowouts. He also had the single-best match average of the semis so far — 4.000 in 10 innings against Jin Pyo Hong, a result that included a 13-point run.

Raymond Ceulemans, the 71-year-old caroms legend and BCA Hall of Famer, was holding his own in the tough "D" bracket with a 4-1 record. Tough matches remained with defending champion Frederic Caudron and highly regarded Sung-Won Choi.

The top 20 players from the semifinals will earn spots in the finals, divided into an "A" group of the top 8 players (the top two from each bracket), with the remaining 12 dropping to a "B" bracket.

The finals will kick off on Saturday and run through Sunday, with the top player in the "A" bracket receiving $25,000.

The $125,000 prize fund is a $45,000 improvement over the 2007 tournament, and makes the event one of the richest tournaments on the U.S. calendar this year, for either pool or caroms.

You can follow results at the tournament through its Web site at http://www.sangleeinternational.com/2008.html .