Headstring News
Final 8 Begin Play at Sang Lee Carom Clash
Jul 26, 2008, 1:39 PM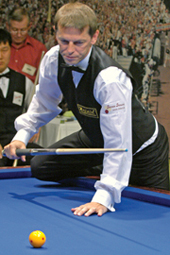 Blomdahl led the pack in the semis with an 8-0 record and 1.829 average. [Photo: Joe Ratke]
Torbjorn Blomdahl entered the final round of the 2008 Sang Lee Interational Open on Saturday as the top seed and one of only two players with unblemished records in the semis — going 9-0 in the round-robin format and posting an impressive 1.885 grand average.

Three-cushion legend Blomdahl and Korea's Duek-Hee Hwang led the group of eight players that earned berths in the final round of the $125,000 tournament, set to climax on Sunday at the Carom Cafe in Queens, N.Y.

Here are the eight players who made the finals, from the original field of 86, with their records and averages from the semifinal round that took place Wednesday through Saturday afternoon:

Torbjorn Blomdahl (Sweden), 9-0, 1.885
Duek-Hee Hwang (Korea), 9-0, 1.423
Frederic Caudron (Belgium), 8-1, 1.946
Tayfun Tasdemir (Turkey), 8-1, 1.901
Martin Horn (Germany), 7-2, 1.799
Roland Forthomme (Belgium), 7-2, 1.667
Semih Sayginer (Turkey), 7-2, 1.596
Dong-Koong Kang (Korea), 7-2, 1.399

On Saturday, the eight began play in the finals' "A" bracket, consisting of 50-point matches in a single-elimination format, with a top prize of $25,000. The "B" bracket consisted of the next 12 highest-charting players from the semis, with race-to-40 matches.

You can follow the tournament through its Web site: http://www.sangleeinternational.com/2008.html .