Headstring News
Caudron Survives Cliffhanger on Saturday at Sang Lee Open
Jul 26, 2008, 11:50 PM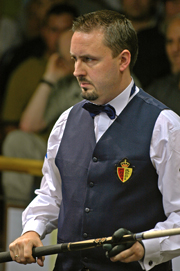 Caudron kept his cool in the 50-49 quarterfinal win. [Photo: Joe Ratke]
In a thrilling match eerily similar to the title-clinching contest of a year ago, Frederic Caudron came from behind on Saturday night to nip Semih Sayginer by a single point, 50-49, and advance to the late rounds of the 2008 Sang Lee International Open.

In the deciding match of the 2007 Open, Caudron came back from deficits of 31-15 and 39-29 against Sayginer to win the event, 40-39. On Saturday night, Caudron faced Sayginer again — and again survived a near-loss experience when Sayginer took an early lead and then undercut a shot along the head rail with the score knotted, 49-49.

Caudron's one-point victory Saturday night secures a spot in the final four for the two-time defending champion from Belgium. Joining him are Torbjorn Blomdahl of Sweden, Roland Forthomme of Belgium, and Germany's Martin Horn.

The $125,000 three-cushion tournament will conclude Sunday at the Carom Cafe in Queens, N.Y.

After several days of round-robin play for the event's 86 entrants, the top eight players were determined Saturday afternoon, and the tournament went to a single-elimination format with race-to-50 matches.

Horn darted to an 11-0 lead against Turkey's Tayfun Tasdemir and held off a couple strong comeback attempts to win their quarterfinal, 50-39. Forthomme dominated Korea's Duek-Hee Hwang, 50-18, to earn his spot in the final four. And Blomdahl cruised in his match with Korea's Dong-Koong Kang, 50-18.

The final contest of Saturday evening was between the electric Sayginer and precise Caudron, and it was a barnburner from the beginning. Sayginer ran 13 straight points in the third inning to take a 20-11 lead, only to watch Caudron rattle off 11 of his own in the fourth inning, resulting in a 22-21 advantage. With Sayginer back in the lead after the fifth inning, 25-22, the players' averages were a gaudy 5.000 for Sayginer and 4.400 for Caudron.

Caudron engineered a 12-point run in the eighth inning, taking a commanding 37-25 lead. Sayginer suddenly couldn't hit the broad side of a barn, and fell into a 44-27 hole. But then Caudron had trouble converting — often falling victim to inadvertant kisses — and Sayginer slowly climbed back into it.

Trailing 46-41, Sayginer collected another 7 points in the 17th inning. Caudron answered with three points to mount the hill, but his match-winning shot went astray at the very last second as his first object ball nudged the second just as the cue ball was about to strike. Sayginer made his point to tie the match at 49-49, but then mishandled the match-winner and stalked back to his seat. Cool and composed, Caudron nailed the point for the 50-49 win.