Headstring News
Surprise Star: Forthomme Nips Caudron to Win Sang Lee Open
Jul 27, 2008, 10:44 PM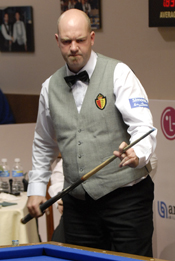 Forthomme gave a star-making performance when moved to the TV table. [Photo: Joe Ratke]
NEW YORK CITY — After watching his 16-point lead evaporate in the final match of the 2008 Sang Lee International Open, Roland Forthomme knew he had to ramp up his performance against defending champion Frederic Caudron.

"I said to myself, 'I have to do something. I need more motivation, more power, more action,'" said the 37-year-old Belgian. "[Caudron] had a very good comeback. If I want to have a chance to win, I have to do something different, I have to do something special."

In colloquial English, that means, "Get psyched up." And that's what he did.

Trailing 35-33 in the 50-point match, the burly Forthomme ran 11 straight points to retake the lead and the psychological advantage. His self-motivational speech eventually led him to a 50-41 title-clinching win over fellow countryman Caudron, one of the elite three-cushion players in the world.

"I was very happy," Forthomme said. "It was very special to play a final against him."

The eight-day Sang Lee International Open wrapped up on Sunday at the Carom Cafe in Queens, N.Y. The field consisted of 86 of the top three-cushion players in the world, including 2006 and 2007 winner Caudron.

It looked as though Caudron would take it for a third year in a row after two come-from-behind victories — a 50-49 barnburner over Semih Sayginer in the quarterfinals, and a 50-28 win over Torbjorn Blomdahl in the semis. In the latter match, Caudron outscored Blomdahl 43 to 11 after his opponent took an early 17-7 lead.

The workman-like Forthomme was rarely in the spotlight this week, despite having risen to fifth in the world rakings. His semifinal match against Germany's Martin Horn was his first on the "feature table," on which matches were being taped for later TV broadcast. A convincing win over Horn, 50-32, led to the final with Caudron.

Forthomme darted to a 22-6 lead, but no one in the arena believed that the precise and unflappable Caudron — capable of authoring a couple quick 9- or 10-point runs — was ever out of it. In fact, Caudron scored 18 points over three innings to cut Forthomme's lead to 32-30.

After Caudron inched ahead to 35-33, Forthomme produced his 11-point run in the 24th inning, and then was on the verge of running out in the 25th when the bright automatic-focus light of a spectator's camera distracted him. Obviously perturbed, Forthomme backed off the shot and motioned to the fan. When he attempted the shot again, potentially giving him a 49-40 lead, he missed it.

This prompted a jarring emotional outburst — a rare event for buttoned-down three-cushion tournaments. Walking back to his chair, Forthomme pointed at the spectator and growled, "I hate you!"

Forthomme said later that he was angry in that moment. "If Caudron runs 10 more from that point, it's over for me. ... But [now that I've won] everything is OK."

Forthomme pocketed $25,000 for his win, a nice chunk of the $125,000 prize fund.