Headstring News
Top Pros Gather at Lucasi Classic
Jul 31, 2008, 11:04 AM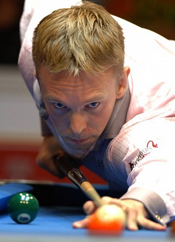 Hohmann will be the top-seed in the 14.1 event.
For the next four days, Bankshot Billiards will be wall to wall with all types of pool players, from juniors to world-champions. The Jacksonville, Fla., poolhall is hosting a bundle of tournaments, headlined by the Lucasi Hybrid Classic.

An international crowd of top professionals began play yesterday in two divisions — 10-ball and straight pool. Held through Aug. 3, the Lucasi events will feature Thorsten Hohmann (top seed in the straight-pool division), Shane Van Boening (10-ball top seed), Dennis Orcollo and Mika Immonen.

Alongside the world-class display of skill, the Ozone Billiards U.S. Amateur Open is attracting players to the handful of divisions, including senior, women, men and junior tournaments in 8-ball and 9-ball.

Dragon Promotions, headquartered in Jacksonville, will also be producing the World Junior 10-Ball Championships. Scheduled for Aug. 2-3, the junior event will feature recent BEF Junior Nationals champions Landon Shuffett (14-and-Under) and Austin Murphy (19-and-Under). Dominic Jentsch, three-time junior national champion in Germany, will also be a heavy favorite.

The girls division also features the reigning BEF champions, with Briana Miller (14-and-Under) and Chelsea Hardwick (19-and-Under) set to compete.

For more information, visit www.dragonpromotions.com, and ticket information is available at www.playatbankshots.com .