Headstring News
WPBA Shocker: Ranola Defeats Fisher in First Round of U.S. Open
Jul 31, 2008, 5:48 PM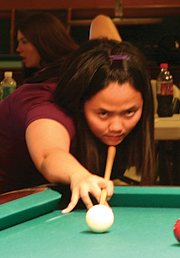 Ranola defeated the tour's top player in just her second WPBA event.
Iris Ranola, a qualifier at the WPBA's U.S. Open 9-Ball Championship, added a big bullet-point to her fledgling resume by defeating No. 1-ranked Allison Fisher in their first-round match on Thursday.

Playing in just her second WPBA event, Ranola battled Fisher evenly through 16 games, forcing a hill-hill case game at 8-8. According to the WPBA Web site, Fisher appeared to have the advantage after Ranola missed the 4 ball, but the tour's top-ranked player ended up with awkward position on the 6. Fisher rattled the 6, leaving a runout for her opponent.

Showing her nerves, Ranola left herself a straight-in shot on the 8 that required her to cue over the 9. She missed. Fisher needed to execute three-rail "around the table" position for the 9 ball, and scratched after applying too much draw. Ranola ran out for the shocking upset.

As the event is still in the double-elimination stage, Fisher has moved to the one-loss side. This very well may be the first opening-round loss in her 13-year WPBA career, which includes 53 titles.

Ranola, who hails from the Philippines, moved on to meet Aileen Dimmick of Alaska in the second round.

The U.S. Open, taking place at the Riverwind Casino in Norman, Okla., will conclude on Sunday.