Headstring News
Big Weekend Ahead in Jacksonville
Aug 1, 2008, 11:07 AM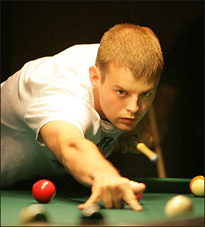 Stone double-dipped his international foe for the title. [Photo: JRCalvert.com]
With a heap of pool events taking place at Bankshot Billiards in Jacksonville, Fla., the first champions have been crowned. The Ozone Billiards U.S. Amateur Open 8-ball division ended play Friday night in both the men's and women's divisions.

Ryan Stone, who first raised eyebrows with a fourth-place finish at this year's Derby City Classic, ran through seven opponents on the one-loss side to get a shot at the player that sent him left.

Sixteen-year-old Dominic Jentsch, a three-time junior champion in Germany, couldn't repeat his success against Stone in the final. This time around, the 21-year-old from Dayton, Ohio, topped the German in two sets for the title.

On the women's side, Monica Riley faced Samm Diep in the hot-seat match. Riley, a Jacksonville native, took a seat in the final, forcing Diep to the left.

Diep earned a rematch with Riley by defeating Ashea Erdahl in the third-place match. The final was a repeat of the hot-seat match, with Riley cruising to the win.

Mixed among the throng of amateurs, the professionals took to the tables at Bankshot Billiards for the Lucasi Hybrid Classic straight-pool tournament. The field has been narrowed to 16 players, who will be redrawn into a single-elimination bracket according to rankings from early-round play.

Thorsten Hohmann, who entered the event as the top seed, justified the lofty expectations with two no-doubters, including a 125-2 win over Dave Broxson. John "Mr. 400" Schmidt, the second seed, also advanced with a tight 125-95 win over Tony Crosby.

Other big names to advance include Johnny Archer, Dennis Orcollo, Corey Deuel and Shane Van Boening.

Play will resume this afternoon, with the finals scheduled for 9 p.m. (EST). The Lucasi 10-ball event will begin tonight at 8:30 p.m.