Headstring News
Another Shocker: Top-ranked Fisher Goes 2-And-Out at U.S. Open
Aug 1, 2008, 7:06 PM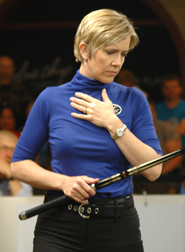 Fisher planted the seed for her second-round loss with a heart-stopping miss on the 2 ball.
In an almost certainly unprecedented turn of events on the WPBA's Classic Tour, No. 1-ranked Allison Fisher has been eliminated from the U.S. Open 9-Ball Championship after losing her first two matches in the double-elimination stage of the event.

Fisher lost a hill-hill thriller, 9-8, against up-and-coming Iris Ranola of the Philippines in the first round on Thursday. That sent her to the losers' side, where she faced No. 23-ranked Sarah Rousey in a 10 a.m. match on Friday.

Leading 8-7, Fisher missed a tough cut on the 2 ball. Rousey then polished off the rack to tie the match at 8-8. In the case game, Rousey broke and ran out for the gutsy victory.

Fisher more than likely will lose her No. 1 ranking after the event, with three women tied for second place on the charts — Xiaoting Pan, Ga Young Kim, and Karen Corr. If either one of them finishes with a ninth-place finish or better — and it's likely that all three will go at least that far — Fisher could drop as low as fifth place.

Fisher has not been ranked below No. 2 in more than a decade, and this is almost certainly the first time she has gone two-and-out in a WPBA event. It should be noted that the WPBA reset its rankings at zero at the beginning of this season, as opposed to basing rankings on a 10-tournament cycle, as it has in the past.

The U.S. Open, taking place at the Riverwind Casino in Norman, Okla., will conclude on Sunday. Stay tuned.