Headstring News
Williams Snaps Off Lucasi 10-Ball
Aug 4, 2008, 7:12 PM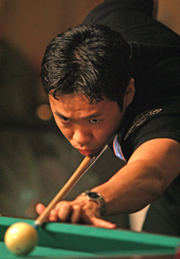 Williams made quick work of Archer in the final, coasting to a 10-5 win.
At the Lucasi Hybrid Invitational Classic, Charlie Williams showed that he is still a championship-caliber player at heart. The founder of Dragon Promotions, the international event-promotion firm that hosted the event, topped Johnny Archer in the final to take home the $4,000 first prize.

The 10-ball event at the Lucasi Classic — held July 31-Aug. 3 at Bankshot Billiards in Jacksonville, Fla., — had a 48-player bracket that included a handful of top American talent. Williams lost his third round match to Archer, 9-3. The Korean Dragon then went on a tear in the one-loss side. He reached the left-side final by beating Butch Croft, 9-4; Dennis Orcollo, 9-7; Mike Davis, 9-4; and Tony Crosby, 9-4.

There, he met Shane Van Boening, who looked to be in prime form before losing the hot-seat match to Archer, 9-7. Williams edged the reigning U.S. Open champion in a hill-hill match, 9-8, to reach the final.

In the single-set race-to-10 final, Williams aimed at avenging his earlier loss to Archer. Williams pulled away to notch a 10-5 victory.