Headstring News
BEF Announces 2008 Scholarships
Aug 5, 2008, 8:32 PM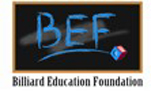 The Billiard Education Foundation (BEF) Academic Scholarship Program is an annual program which is divided into two categories: BEF "Excellence in Education" scholarship (one $5,000 award over a two-year term) and BEF "Aiming for Higher Education" scholarships (seven $1,000 awards). The objective of the BEF Academic Scholarship Program is to grant scholarships to high school seniors who have benefited from the sport of billiards and are pursuing a college education.

The scholarship criteria includes maintaining a 3.0 cumulative GPA (on a 4.0 scale); must have received an ACT score of 23 or higher, or an SAT score of 1050 or higher; must be accepted to an accredited undergraduate academic program by June 1, 2008; carry at least 12 hours per semester; submitting a 500-1000 word essay on how billiards has been an integral part of his/her life; a letter outlining academic achievements, leadership and/or community service work; and a description of the applicant's background and career objectives.

Congratulations to the following 2008 winners:

BEF "Excellence in Education" Scholarship ($5,000)
Kelly King — Baltimore, Md.

BEF "Aiming for Higher Education" Scholarships ($1,000)
Christopher Berger — Atlanta, Ga.
Dustin Farmer — Windsor, Colo.
Christopher Futrell — Virginia Beach, Va.
Kyle Gassaway — Summerfield, N.C.
William Howard — Richardson, Texas
Casey Landry — Bush, La.
Matthew Pina — Ludlow, Mass.

Essays may be viewed on the BEF Web site at www.BilliardEducation.org .

The BEF would like to wish all the applicants much success.

The Billiard Education Foundation is a 501 (c) (3) non-profit charitable organization committed to furthering the standard of excellence and leadership within the billiard community by engaging in activities related to the education and cultural advancement of tomorrow's leaders.

For more information about the BEF please visit www.BilliardEducation.org . To become a sponsor, make a donation or inquiry, please contact Laura Smith at LauraSmith@BilliardEducation.org or (303) 926-1039.