Headstring News
Mosconi Cup Moving to Malta
Aug 11, 2008, 6:12 PM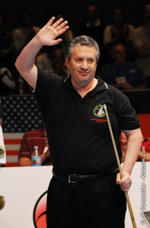 Drago will play host at this year's Cup. (Photo by JP Parmentier, kozoom.com)
On Friday, Aug. 8, Matchroom Sport's chairman Barry Hearn announced that the 2008 Mosconi Cup will be moving to the European island nation of Malta.

Scheduled for Dec. 11-14, the 15th Mosconi Cup will take place at the Hilton Hotel in Portomaso, Malta.

"The Mosconi Cup has developed into a major sporting occasion and Iím very pleased to have the opportunity to stage the event in Malta," Hearn said.

During its 15-year history, the Mosconi Cup has evolved from an entertaining exhibition event in its early days into a life-or-death struggle contested by the very best pool players in the world.

Styled on golfís highly successful Ryder Cup, the Mosconi Cup involves a series of singles and doubles matches played over four highly explosive days.

Two five-man teams representing the United States and Europe will gather to do battle in what has evolved into one of the most anticipated events of the year.

Since itís inception in 1994, Europe has only won the competition three times - in 1995, 2002 and last year in Las Vegas. It was a memorable victory as the European squad overcame a shaky start to dominate the second half of the event with some outstanding individual performances.

Once again, Sky Sports are producing the show as the event is beamed live in the U.K. from start to finish. Highlight packages will broadcast on a host of stations around the world including Fox Sports Net in the USA.

Maltaís Tony Drago, who won the Most Valuable Player award at last yearís event, will be making his second appearance this December.

The 42 year-old from Valletta sealed his spot earlier in the year following wins in the Paris Open on the EuroTour and then the Predator International 10-Ball Championship in Las Vegas.