Headstring News
In Progress: Challenge of Champions
Aug 14, 2008, 12:53 PM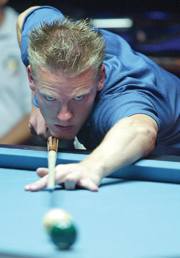 Feijen easily advanced in his first match, winning in staight sets.
The first round at the 2008 International Challenge of Champions is complete, with two semifinals and final match scheduled for Thursday, Aug. 14.

The event — featuring a winner-take-all prize of $50,000 — is a single-elimination eight-player bracket. Matches are two races-to-5, with a one-game tie-breaker if the players split the sets.

WPA No. 1-ranked Dennis Orcollo faced Satoshi Kawabata of Japan in the first match. Orcollo took the first set, 5-4, but then dropped the next by the same score. The Filipino star was able to regroup, sending Satoshi out of the tournament in sudden-death.

Shane Van Boening, the lone American in the field, then took on Fu Jian-Bo of China. Van Boening looked in complete control, blanking his opponent in the first set, 5-0. But the tide turned against the American, and Fu took the second set and tie-breaker to advance into the semifinals.

Taiwan's Chang Jung-Lin, who has recently dominated the Asian-based Guinness 9-Ball Tour, faced reigning World 9-Ball Champion Daryl Peach in the third quarterfinal. Chang was the first to avoid a sudden-death rack, winning both sets, 5-4 and 5-3.

The final match on Wednesday night featured last year's Challenge champion Niels Feijen matching up with Seung-Woo Ryu of Korea. Feijen was never never in fear of an early exit, as he won both sets, 5-2, to advance.

Thursday's semifinals will feature Orcollo against Chang and Feijen versus Fu.