Headstring News
Turning Stone Gets Rolling
Aug 15, 2008, 11:25 AM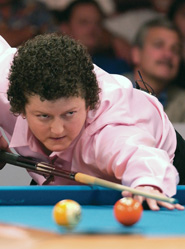 Kelly faces Kevin Ketz in the second round.
One day into the Turning Stone Classic XI, the contingent of WPBA stars must be feeling pretty good in upstate New York. Karen Corr, Liz Ford and Joanne Ashton all won their first-round matches.

Oh, and there is Julie Kelly.

The seventh-ranked player on the Classic Tour posted the biggest upset of the day, beating Corey Deuel in dramatic fashion. Kelly faced an 8-6 deficit against Deuel, who snapped off the Allen Hopkins 9-Ball Shootout last week. But Deuel was a little sloppy with a safety, and that's all Kelly needed. She cleaned up that rack then took the next two for the win.

As recent history suggests, Johnny Archer will be the man to beat when the bracket narrows. He has won three of the last four Turning Stone events, including February's final over Jeremy Sossei.

Archer easily advanced into the second round, routing Pete Bowman, 9-2. He will face Tony Crosby in one of the most anticipated second-round matches.

Other big-time matches in round two include Mika Immonen against Jose Parica, Mike Davis facing Raj Hundal, and Ernesto Dominguez meeting Francisco Bustamante.

Action at the Turning Stone Classic — held at the Turning Stone Resort & Casino — will run through the weekend, with the final scheduled for Sunday evening.

Regularly updated brackets can be found at www.azbilliards.com/brackets .