Headstring News
Who Needs the Olympics: China's Fu Wins Challenge of Champions
Aug 15, 2008, 6:05 PM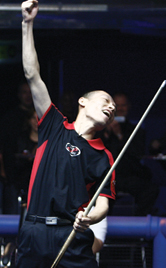 China's Fu, shown here in a photo from the World Cup of Pool, continues his streak in international competition. [Photo by Lawrence Lustig]
It wasnít the Olympics, but China still won the top prize.

Jain-Bo Fu of Beijing, China, defeated Dennis Orcollo of the Philippines to seize the winner-take-all $50,000 purse on Thursday at the 18th annual International Challenge of Champions.

ďI am very happy to win this honor for China,Ē said an elated Fu through his interpreter, moments after capturing the title with a dominating 5-1 and 5-2 performance over the tough Filipino.

Taking place at the Mohegan Sun Casino in Uncasville, Conn., the semifinal and final matches were taped for broadcast on ESPN beginning Sept. 28.

Fu began his trek through the eight-man, single-elimination bracket with a quarterfinal match with Americaís Shane Van Boening, BDís 2007 Player of the Year. The format required two race-to-5 sets, with a pressure-packed single-game tiebreaker if needed. Van Boening and Fu split their two sets, 5-1 and 5-0. Fu then won the tiebreaker.

Fu, who was a member of Chinaís winning team at the 2007 World Cup of Pool, next had to play Niels Feijen, the defending champion at the Challenge of Champions. Fu easily dominated their semifinal tilt, 5-2 and 5-2.

In the other semifanal, Orcollo matched up with Japanís Satoshi Kawabata. They split their sets, 5-4 and 5-4. After winning the lag for break, Orcollo then performed a flawless runout to take the one game Sudden Death tiebreaker

Fuís final match against Dennis Orcollo was a nailbiter despite the lopsided score, featuring exquisite safety play. Known for his pinpoint accuracy, Fu closed out the $50,000 match by continually running racks with electrifying shots.