Headstring News
World 14.1 Field Full of Big Names
Aug 19, 2008, 5:26 PM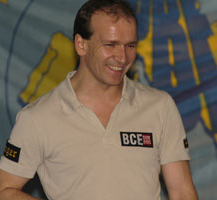 Ortmann predicted the title will evade the Americans for awhile longer.
In little more than a week, some of the biggest names in billiards will be competing in the 2008 Predator World Straight Pool Championship — scheduled for Aug. 25-30 at the Hilton in East Brunswick, N.J.

Mike Sigel, considered one of the top straight-pool players in the modern era, will return to the table in hopes of adding another notch to his Hall of Fame legacy.

Other 14.1 legends will be alongside Captain Hook, including recent Hall of Fame inductee Allen Hopkins. For more than a decade, Hopkins was considered a top talent in many disciplines, including straight pool.

Bobby Hunter will also compete. Hunter is the last American to hold the 14.1 world title, which he won in 1990.

But the favorites have to be the Europeans, led by reigning champion Oliver Ortmann. Last year, after winning the title by defeated Netherlander Huidji See, Ortmann predicted the 18-year drought for the Americans will continue for the foreseeable future.

"It might be a very long time before an American will get this title back," Ortmann said.

Fellow Germans Ralf Souquet and Thomas Engert, Finland's Mika Immonen and two-time European 14.1 champion Niels Feijen of Holland will also be players worth keeping an eye on.

Fans and players can still reserve rooms at Hilton East Brunswick at (732) 828-2000. Tickets can be purchased in advanced at www.dragonpromotions.com or in person at Amsterdam Billiards in New York City or Comet Billiards in New Jersey.

For more information on player registration, sponsorship or if you would like to submit a comment, please e-mail worldstraightpoolchampionships@gmail.com or contact Dragon Promotions at (407) 782-4978.