Headstring News
In the Dog House: PoolDawg Evicted by MySpace
Aug 22, 2008, 10:34 AM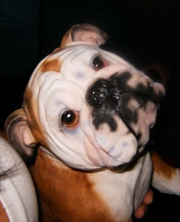 PoolDawg's mascot, Frank, was the focus of the site.
If you're looking for the online home of Frank, the PoolDawg.com bulldog, he's moved to a new abode.

On Wednesday, Aug. 20, marketing gurus for PoolDawg.com — a leading online retailer of billiard, poker and dart equipment — logged into the MySpace account devoted to their mascot, Frank, and learned that the account no longer existed. For unknown reasons, MySpace had deleted Frank's account and wiped out more than 1,600 friend connections developed over two years.

"We are extremely disappointed with the decision made by MySpace and Fox Interactive to delete our account," said Mike Feiman, PoolDawg's director of marketing. "MySpace was a great way for us to keep in touch with our pool playing friends and customers, so the loss of Frank's MySpace page is not an insignificant loss."

A call left for the MySpace media relations department on Thursday was not returned.

The MySpace page was a significant marketing tool for PoolDawg, where it had connected with more than 1,600 amateur and pro pool players.

Currently, PoolDawg is building a new site for Frank. Located at FranksDawgHouse.com, the site will include a blog ostensibly written by Frank, and pictures of the mascot (embodied by a stuffed bulldog) hanging out with PoolDawg player representative Debbie Schjodt and other players on the WPBA Classic Tour. The site is active immediately, and the public is welcome to participate in the development of the site.