Headstring News
Accu-Stats Jumps into Webcasts with 14.1 Event
Aug 22, 2008, 11:27 AM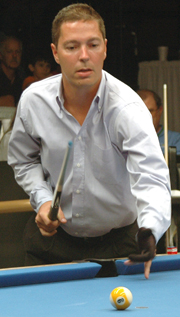 John "Mr. 400" Schmidt will be among the heavyweights in the invitational field.
Accu-Stats Video Productions will jump into live Internet broadcasting and event production in early September with an invitational straight-pool tournament featuring top pros and 60-point matches.

The Accu-Stats 14.1 Straight Pool Invitational will take place Sept. 4-7 at Comet Billiards in Parsippany, N.J. It will feature a double-round-robin format and a top-notch field of Johnny Archer, John Schmidt, Jose Parica, Ralf Souquet and Thorsten Hohmann.

"We have the opportunity to bring the fans the tournament action they demand and at the same time, control our own product," says Accu-Stats owner and 2008 BCA Hall of Fame inductee Pat Fleming.

The event — 20 matches in all — will be broadcast live on the Accu-Stats Web site at www.accu-stats.com. The innovative format will generate 10 DVDs with commentary by Accu-Stats' Billy Incardona and Danny DiLiberto.

Setting match lengths to 60 points is designed to "keep the pressure at boiling point," Fleming said. "Each time you come to the table, every stroke is critical. One misplayed shot here, and it could be all over."

When players sink the game ball, they will be allowed to continue their run, in hopes of scoring 100-plus innings for potential cash bonuses and a "Player Review" in which he narrates his own DVD of the run.

The event is just the first step for Accu-Stats into regular event promotion and Internet broadcasts. The firm tentatively plans to produce at least one event per month at Comet Billiards, where it will set up a regular viewing arena and production facilities.

"This gives us the opportunity to produce tournaments, challenge matches, exhibitions, and instructionals, all of which will evolve into DVDs and Internet broadcasts. Now, for Accu-Stats, the sky's the limit," said Fleming.

Visit accu-stats.com or call 800-828-0397 for more information on season passes and individual ticket purchases.