Headstring News
Surprising Start in New Jersey
Aug 26, 2008, 11:14 AM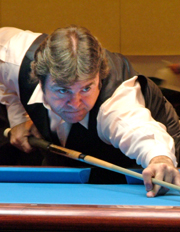 Hopkins topped No. 1 seed Ortmann, 100-60. (Photo by Jonathan Smith)
After one day of round-robin play at the Predator World 14.1 Championship, Mike Sigel and Allen Hopkins remain unbeaten. Sigel easily Ignacio Chavez, 100-50, while Hopkins topped defending champion Oliver Ortmann, 100-60, and Bernie Pettipiece, 100-18.

But considering the amount of straight-pool accolades these two Hall of Famers have collected over the past four decades, this first-day success shouldn't be too shocking.

What might be a little surprising is that the top four finishers from last year's championship have won just one match — 2007 runnier-up Huijdi See's 100-19 win over John Rousseau.

Danny Harriman, who finished tied for third with Martin Kempter last year, dropped his opening match to Niels Feijen of the Netherlands, 100-49. Kempter was on the wrong end of both his matches, losing to Ralf Souquet, 100-64, and Dan Wallace, 100-34

Though struggling early, these top seeds have plenty of time to climb up the group standings. The round-robin stage, with eight flights of eight players each, is far from over. After each competitor plays seven matches, the top four from each group will advance to the round of 32.

The double-elimination bracket will switch to single elimination once 16 players remain.

Brackets at www.azbilliards.com will be updated throughout the competition.