Headstring News
National Championship Series in the Works
Aug 26, 2008, 7:08 PM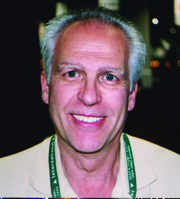 Griffin expects the 8-ball championship to materialize first.
One of the biggest names in U.S. amateur pool is in the midst of organizing a series of tournaments open to pros and amateurs that would crown national champions in 8-ball, 9-ball, 10-ball, straight pool and one-pocket.

Dubbed the National Championship Series, the new program would stage a series of qualifiers across the country in each discipline, leading to five national championships determining the top player in each game.

The NCS is spearheaded by CueSports International, LLC, the parent company of the BCA Pool League amateur-league system and owned by far-reaching pool entrepreneur Mark Griffin.

"The U.S. is one of the few countries that does not conduct national championships," Griffin said. "CSI saw the possibility of creating opportunities for pool players while offering national exposure for the billiards industry. This structure will determine for the first time a true national champion in all five disciplines."

Griffin announced his plans for the series on Tuesday, although many details still needed to be finalized. The CSI is just beginning to field locations for qualifiers, for example, and no dates are set as of yet for the 2009 national events.

The 8-ball event would come first, Griffin said, to allow the winner to play in the 2009 World 8-Ball Championship, which is tentatively set for April. Griffin hopes to make arrangements to allow the national winners in 9-ball, 10-ball and straight pool to play in the respective world events, sanctioned by the World Pool-Billiard Association.

The NCS is separate from Griffin's previously announced plans to create and fund a major pro tour in 2009, he said. Prize money for NCS events would come mostly from entry fees and sponsor support.

Requirements for NCS players will include proof of U.S. residency or citizenship. More details will be forthcoming.