Headstring News
Billiards International Entering HD Age
Aug 27, 2008, 11:53 AM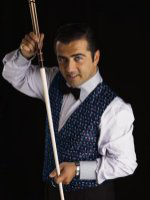 Pelinga will aim at defending his 2007 Trick Shot Magic title.
Billiards International, the event production firm responsible for much of the highly rated specialty pool programming on ESPN, will be the first to produce billiards events in high definition television for ESPN. The International Speed Pool Challenge and Trick Shot Magic events, scheduled for October 1-2 at the ESPN Zone in Las Vegas, Nev., will be produced in HD.

A majority of major sporting events are available in high-definition, with billiards now joining the ranks.

The International Speed Pool Challenge will feature 2007 winner Bobby McGrath and Trick Shot Magic will feature 2007 champion Stefano Pelinga. Other star players will include Andy Segal, Mike Massey, Tom Rossman, Dave Pearson and Nick Nikolaidis.