Headstring News
World 14.1: Final Day of Group Stage
Aug 27, 2008, 12:15 PM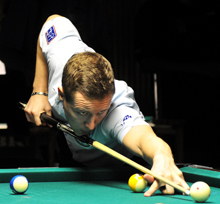 Immonen's closest match was a 100-48 win over Stepanov.
After dropping his first match at the Predator World 14.1 Championship against Allen Hopkins, defending champion Oliver Ortmann responded by winning his next four matches. With one day left in the group stage, Ortmann looks assured of a spot in the final 32.

Many of the top seeds at the championship — held through Saturday at the Hilton East Brunswick (N.J.) — have themselves in position to advance.

Johnny Archer, Mika Immonen, Francisco Bustamante and Nick Van den Berg remain unbeaten in the round-robin stage.

Mike Sigel and Allen Hopkins, both legends in the discipline of straight pool, should advance if each can win one match on Wednesday.

Meanwhile, Jasmin Ouschan, who finished in ninth place last year, has struggled in the first two days of the world championship. Entering play Wednesday, she has a 2-3 record. Ouschan will need to finish in the top half of her eight-player group to advance.

On Thursday, the format will switch to a double-elimination field of 32 players. Once the field is halved to 16, the bracket will become single elimination, with matches extending to races-to-200. The final is set for Saturday evening.

Brackets are available at www.azbilliards.com .