Headstring News
World 14.1 Enters Knock-Out Phase
Aug 28, 2008, 1:05 PM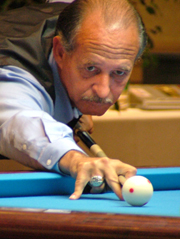 Sigel won both his Wednesday matches to advance out of his group. (Photo by Jonathan Smith)
Finishing off round-robin play in dominating fashion, Mika Immonen earned the top seed in the knock-out stage of the Predator World 14.1 Championship — held through Saturday at the Hilton Hotel in East Brunswick, N.J.

Going 7-0 in the group stage, Immonen ended with a combined score of 700-210 — averaging an astounding 70-point margin of victory.

Three other players also went unbeaten through the first three days of play. Nick Van den Berg of the Netherlands secured the second seed in the 32-player bracket, while countryman Niels Feijen took the No. 3 spot. Johnny Archer finished fourth overall among the 64 players by going undefeated in his group.

Straight-pool legend Mike Sigel survived what turned out to be the "group of death." Five players tied with 5-2 records in Group 2, including Thorsten Hohmann and Charlie Williams. Jonathan Fulcher was the unlucky man out, eliminated by virtue of a tiebreaker based on total points.

The World Championship will now be single-elimination until a winner is crowned on Saturday evening.

Interesting matchups in the round of 32 include Mika Immonen against Jasmin Ouschan, who advanced despite struggling to a 3-4 record in group play; rising star Mike Dechaine facing Bobby Hunter, the last American to win the world title in 1990; and Hohmann taking on Williams, who has had a number of top finishes in recent months.

Brackets can be found at www.azbilliards.com .