Headstring News
Fisher Nominated for Sportswoman of the Year
Aug 28, 2008, 6:43 PM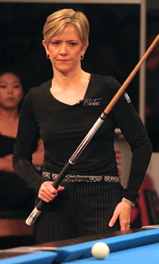 Fisher is the most dominant woman cueist of the last two decades (counting snooker).
This time, Allison Fisher is up against even stiffer competition than usual.

Fisher, by far the most dominant women's pool player of the last 13 years (and in snooker before that), has been nominated for the Women's Sports Foundation 2008 "Sportswoman of the Year" in the "individual" category. (There also is a category for team players.)

There are 10 athletes in the category in all, and the winner will be determined by online vote. Other women in the running include Olympic swimmer Natalie Coughlin and gymnast Nastia Liukin.

The deadline for votes is midnight on Sept. 12. To register a vote in the contest, go to:

http://www.womenssportsfoundation.org/News-And-Events/Awards/Sportswoman-of-the-Year-Award/Vote.aspx?type=individual .

Award winners will be announced on October 14, 2008, and honored at the Annual Salute to Women in Sports Awards Dinner at the Waldorf-Astoria in New York City.