Headstring News
First Tickets Punched to Final 16
Aug 29, 2008, 11:13 AM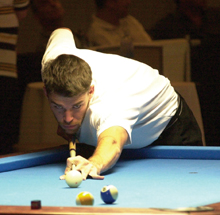 Deuel beat Lipsky and Hundal to advance to the single-elimination round.
For any player who lost the first match in the bracket stage of the Predator World 14.1 Championship, the format is not single elimination — as was first reported.

The field of 32 is currently drawn on a double-elimination bracket. The event will then go to a knockout format once 16 players remain — eight from the winners side, eight from the one-loss side.

As play resumes on Friday, three players have already moved into the round of 16. Corey Deuel easily advanced with wins over Steve Lipsky, 150-3, and Raj Hundal, 150-104.

Thorsten Hohmann and Mika Immonen, two of a handful of European favorites, also won their first two matches in bracket play.

Nick Van den Berg and Niels Feijen, who remained unbeaten through group play, stand just one win away from advancing. And Oliver Ortmann will square off against Mike Dechaine, with the winner moving into the 16-player field.

The biggest surprise in the 32-player bracket has to be the early departure of Johnny Archer. After going 7-0 in the round-robin stage, Archer was sent to the one-loss side by Raj Hundal, 150-89, then sent packing by Lipsky, 150-141.

American hopefuls Mike Sigel, John Schmidt, Allen Hopkins are still alive on the one-loss side, while Danny Harriman faces Francisco Bustamante on the right side.

Brackets at www.azbilliards.com will be updated throughout the weekend.