Headstring News
Do or Die: 14.1 Begins Single-Elimination
Aug 29, 2008, 2:04 PM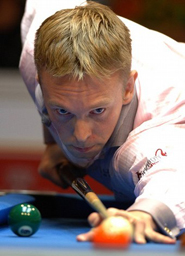 Hohmann will be among the favorites in the final 16.
Surviving three days of group play and another day in a modified double-elimination bracket, 16 players are still alive at the Predator World 14.1 Championship. Now, the players will be redrawn into a final single-elimination bracket that will produce a champion on Saturday evening.

Niels Feijen, Nick Van den Berg and Mika Immonen lead an unsurprisingly strong contingent of Europeans. All three have yet to lose a match at the Hilton East Brunswick, posting impressive 9-0 records.

The Americans, who haven't won the event in nearly two decades, have four players left in the field. Danny Harriman and John Schmidt, both considered among America's best 14.1 players, will be joined by Corey Deuel and Mike Dechaine.

Dechaine, a 21-year-old from Maine, beat Bobby Hunter and Oliver Ortmann to advance to single-elimination play. Ortmann, however, bounced back on the left-side, beating Mike Sigel, 150-105, to advance.

Two rounds will be held on Friday, leaving just four players left for the semifinals and final matches on Saturday.

Updated brackets will be available at www.azbilliards.com .