Headstring News
Feijen Flattens Bustamante for Predator World Straight Pool Title
Aug 31, 2008, 3:17 PM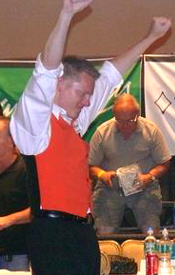 Feijen was overjoyed to collect his first world title. [Photo by Wei Chao/www.cuetable.com]
EAST BRUNSWICK, N.J. — Niels Feijen of the Netherlands clobbered Filipino legend Francisco Bustamante, 200-11, on Saturday to take the title at the Predator World 14.1 Championship.

The favorite on paper, 31-year-old Feijen jumped out to a quick lead over pool veteran Bustamante of the Philippines with a 40-ball advantage. Skilled at most cue games but a relative newcomer to straight pool, Bustamante missed his first open shot and watched as Feijen built an 80-0 lead.

Bustmante took a break, saying with a smile, "Niels is playing good, but don't worry. I will come back and run 200." On his return, Bustamante misjudged his shot and missed again. Feijen then extended his lead to 189 balls.

Bustamante finally made his first shot — to cheers and laughter from the audience — and went on to make a great three-way combo. However, he soon missed another gimme and quickly dropped the match, 200-11.

Feijen raised his hands, almost overcome by sheer joy. Over the course of the 64-player tournament, Feijen had gone undefeated in 13 straight matches for the title and pocketed more than 1,600 balls total.

In an emotional victory speech, Feijen dedicated the win to his friend Joe Kerr, an Ohio-based player and promoter who passed away several weeks ago.

"I want to dedicate my win here to a good friend of mine who passed away, Joe Kerr," said Feijen, as he started fighting back tears. "Joe was my first contact in the U.S., and without knowing him I would not be a professional player today."

In the semifinals, Feijen faced countryman Nick Van den Berg in a tight contest. The matchup went back and forth, with neither player being able to take advantage of the mistakes of the other. The players eventually went on a shot clock, and it still took nearly four hours for Feijen to emerge the winner, 200-157.

In the other semi, Bustamante halted the historic run of Austria's Jasmin Ouschan, who had become the first woman to reach the semis of a men's world championship tournament. Playing on a wild card exemption, Ouschan had knocked off heavy favorites Mika Immonen and Oliver Ortmann to reach the final four.

Against Bustamante, she commanded a lead early on and at one time was ahead, 84-41, while Bustamante struggled with his game. At 122-81 in favor of Ouschan, Bustamante woke up and ran nearly 100 balls to take the lead for the first time. Ouschan would soon succumb to the mighty Filipino, 200-148.

"I have a lot of respect for Jasmin Ouschan," Bustamante later announced in a speech to the crowd.

In beating Bustamante, Feijen earned his first world title — which also was the first world cue-sports title earned by a Netherlander.

The 2008 Predator World Straight Pool Championship, held at the Hilton East Brunswick, was sponsored by Dr. Michael Fedak of New York City; Joel Schapiro of New York City; The Predator Group; Diamond Billiard Products; Aramith Balls; and Simonis Cloth.