Headstring News
Check Listings: Fox Sports to Air World Pool Masters
Sep 2, 2008, 10:56 AM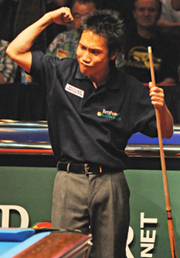 Pagulayan won with a five-rack streak. [J.P. Parmentier/Matchroom Sport]
Fox Sports Network will air matches from the 2008 World Pool Masters — won in dramatic, come-from-behind fashion by Alex Pagulayan of the Philippines — every week during the month of September.

FSN is divided into regional networks across the U.S. (such as FSN Midwest and FSN Rocky Mountain), so you need to check your local listings for airdates and times. A lion's share of the networks are slating the programming for either 11 a.m. or 3 p.m.

The airings come as part of the continuing relationship between FSN for U.K.-based Matchroom Sport, producer of the World Pool Masters as well as such highly regarded fare as the Mosconi Cup and World Pool Championship. Matchroom has been providing FSN with pool programming steadily since 2003.

The World Pool Masters took place in May at the Riviera Hotel & Casino in Las Vegas. In the final against Mika Immonen, Pagulayan fell behind, 6-3, before winning five consecutive racks for the title-clinching victory.

Comcast New England and Comcast Philadelphia also will air programming from the World Pool Masters.