Headstring News
Struggling Schmidt Goes on Tear at Accu-Stats 14.1 Invitational
Sep 7, 2008, 3:20 PM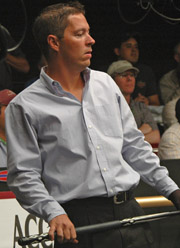 Schmidt's run finally came to an end at 169.
After a weak start at the Accu-Stats 14.1 Straight-Pool Invitational, John Schmidt found his mojo on Saturday with a scorching run of 169 against Johnny Archer, putting him in line for a $1,000 high-run bonus.

The double-round-robin event, broadcast live via Internet pay-per-view, wraps up on Sunday with four hourly matches starting at 3 p.m., EST. Thorsten Hohmann of Germany holds an almost insurmountable lead on the field, so far undefeated at 6-0.

The event's unique format pits five players — Schmidt, Archer, Hohmann, Ralf Souquet and Jose Parica — in race-to-60 straight-pool sets. However, winners are allowed to continue their runs in hopes of scoring bonuses and player-spotlight videos produced by event host Accu-Stats Video Productions.

Schmidt lost his first several matches of the event, which began on Thursday, Sept. 4, at Comet Billiards in Parsippany, N.J. But he kept practicing on side tables and finally broke out against Archer on Saturday. He ran 60-and-out and then continued his run in a rhythm that commentator Danny Diliberto compared to free-stroking "Machine Gun" Lou Butera. At 169, he understroked a key ball, ending his streak.

Parica, holding a 4-2 record, is the only player with a shot at matching Hohmann, in which case there will be a 9 p.m. playoff. The Invitational can be viewed at www.accu-stats.com/liveppv.html .