Headstring News
Behrman: All U.S. Open Matches Will Stay on Site
Sep 11, 2008, 2:58 PM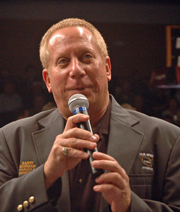 Behrman has scrapped plans for matches at Q-Master Billiards.
Barry Behrman, creator and promoter of the U.S. Open 9-Ball Championships, has revised potential plans to host some losers-bracket matches off-site this year, in case the field pushes past the 256-player barrier.

Last week, Behrman announced plans to open the field and essentially take all comers this year when the 2008 Championships kick off on Oct. 19 at the Chesapeake Conference Center in Chesapeake, Va. To accommodate the greater number of players, he suggested that some losers-bracket matches would take place at the nearby Q-Master Billiards poolroom.

However, Behrman has since decided to add four more tables to the setup at the Chesapeake Conference Center — bringing the total to 20 — which should handle any overflow.

Players must produce their $600 entry fee by Oct. 12 to avoid the $50 late fee. For more information, see the event's web site at www.usopen9ballchampionships.com/index.php .