Headstring News
Rookie Ranola Tops Laurance in Hill-Hill Thriller
Sep 12, 2008, 7:05 PM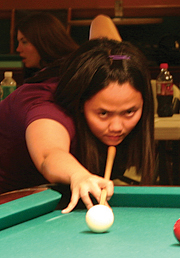 Ranola, the surprise runner-up at the U.S. Open, is still on the one-loss side at the Carolina Classic.
At this weekend's WPBA Carolina Classic, Iris Ranola looked to be a bit short on the magic that carried her to the final of the U.S. Open last month. After topping Stacy Hurst, 9-5, in the first round, the Filipino newcomer dropped her second match against Tiffany Nelson, 9-6.

Then she had to deal with Ewa Laurance in her first match on the left side. Climbing on the hill with an 8-5 lead, Ranola looked set to advance over the two-time player of the year. Laurance, however, fought back to join Ranola on the hill at 8 games apiece. In the case game, Ranola assumed control of the table and found herself in perfect shape for the 9 when Laurance threw in the towel.

Ranola will face the winner of the match between Miyuki Sakai and Candy Rego at 11 a.m. (EST) on Saturday.

Sarah Ellerby, the fifth-ranked player on the Classic Tour rankings, was bounced from the tournament in a disappointing 33rd place. After escaping a first-round scare from Susan Mello, 9-8, Ellerby was sent left by Sarah Rousey. In her first match on the one-loss side, she was on the wrong end of a 9-4 score against Laura Smith.

Brackets will be updated throughout the weekend at www.wpba.com .