Headstring News
Comeback Kid: Kjorsvik Reaches Semifinals at Carolina Classic
Sep 14, 2008, 10:25 AM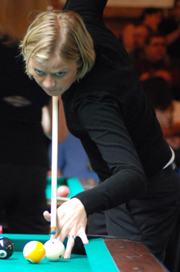 Kjorsvik jumped out to a big lead against Allison Fisher. [Photo: Anne Craig/WPBA]
DURHAM, N.C. ó Line Kjorsvik, who has returned to the WPBA Classic Tour after a two-year hiatus, continued her surprise run at the Carolina Classic on Saturday by defeating Allison Fisher and Anna Kostanian in the single-elimination stage to reach the semifinals.

When action kicks off Sunday, Kjorsvik will play Vivian Villarreal in the first semifinal, and Jeanette Lee will cue up against Jasmin Ouschan.

Itís been a topsy-turvy season so far for the Classic Tour, and the Carolina Classic is following suit. The highest ranked player in the semis will be Villarreal at No. 9, followed by Lee at No. 12 and Ouschan at No. 14.

Kjorsvik of Norway is essentially starting over on tour after her hiatus, but has kept her game in fine shape while competing in Europe. In the round of 16, she eked out a 9-8 cliffhanger against up-and-coming Anna Kostanian of the U.S. In her quarterfinal match with Fisher, she took a 5-1 lead before the tourís former No. 1 player took a break to compose herself. Fisher surged to a 7-5 deficit but continued to play catch-up while Kjorsvik reached the hill. Leaving herself a tricky back-cut on the 8 ball in game 15, Fisher hesitated and reset herself several times for the shot and finally speared it. But she bobbled a rail shot on the 9 and handed the match to Kjorsvik, 9-6.

In other action, Lee defeated Dawn Hopkins, 9-1, in the round of 16, and then Karen Corr, 9-7, in the quarterfinal. Villarreal trumped Sarah Rousey, 9-2, in the round of 16, and then squeaked past Helena Thornfeldt in the quarterfinal, 9-8.

Coming off her remarkable third-place finish at the Predator World 14.1 Straight Pool Championship, Ouschan continued to look impressive with the toughest draw among players in the final 16. She bested current No. 1-ranked Kelly Fisher, 9-4, and then third-ranked Xiaoting Pan, 9-7, to reach the semis.

Despite her ninth-place finish, Kelly Fisher will retain her No. 1 ranking after this event.