Headstring News
Europe's Mosconi Cup Team Takes Shape
Oct 7, 2009, 12:46 PM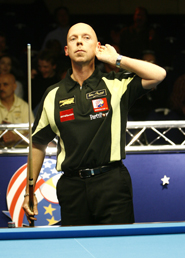 Souquet has heard plenty of cheers in the past two years, with a combined record of 10-1. (Photo by Lawrence Lustig)
With its first two-year winning streak in the 16-year history of the Mosconi Cup, Team Europe will be the odds-on favorite to take home the title yet
again when the transatlantic team competition kicks off on Dec. 10 at the MGM Grand Hotel & Casino in Las Vegas.

Matchroom Sport announced the first three members of the five-man European squad will be Ralf Souquet, Niels Feijen and Darren Appleton.

Souquet, who will be making his 13th appearance in the year-end spectacle, earned an automatic bid as the No. 1 ranked player on the EuroTour. Souquet has been Europe's leader in the last two years, posting a total record of 10-1.

Feijen, meanwhile, will be making his sixth appearance since 2001. In recent years, the 32-year-old Netherlander has paired up with Souquet to become a formidable pair during doubles play.

World No. 1 Darren Appleton was the third player announced as part of the 2009 squad. Left off the team last year after winning the World 10-Ball Championship, Appleton showed Matchroom Sport officials what he's capable of by winning May's World Pool Masters, his first appearance in an event organized by the U.K.-based promotions firm.

"I sort of expected it," Appleton said, "but after last year's disappointment, I didn't want to get my hopes up."

The final two European slots are wild card choices from Matchroom Sport. As for the Americans, Nos. 1 and 2 on the BCA points list will receive automatic bids. Two wild card choices will be made by Matchroom, while the final spot will be chose as a part of a public vote, which will be dubbed the "Mosconi Cup Idol." With a two-year losing streak, the American side could see some changes going into this year's event.