Headstring News
Kim Eyes Classic Tour Hat Trick
Oct 15, 2009, 9:00 AM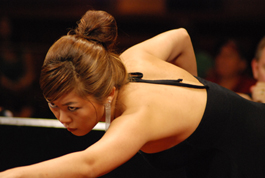 Kim will begin play on Thursday with a 14-match winning streak. (Photo by Anne Craig-WPBA)
Just three weeks removed from her second consecutive win on the Classic Tour, Ga Young Kim sits atop the brackets for this weekend's Pacific Coast Classic. Ranked No. 1 in the year-end points rankings, the Korean star has been unbeatable in recent months.

She first snapped off the WPBA U.S. Open in August, then ran her winning streak to 14 matches with an undefeated run at last month's Colorado Classic. Kim will open play at the Chinook Winds Casino on Thursday afternoon against Tamara Rademakers.

Kelly Fisher, runner-up to Kim at the Colorado event and winner of last year's Pacific Coast Classic, will begin play against Maureen Seto. While Fisher is ranked fourth overall, she has been perhaps the most consistent player on the Classic Tour over the past two seasons. The 2008 Player of the Year, Fisher has advanced to a pair of final tables this year — and a total of six in the last nine events.

Free live streaming of featured matches will be available online. The Pooldawg.com Webcast can be viewed at www.wpba.com.