Headstring News
Friday's Moving Day at U.S. Open
Oct 23, 2009, 12:51 PM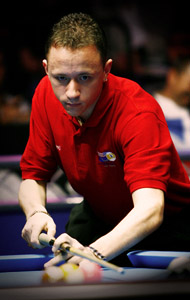 Van Boening looks strong on his way through the one-loss side. (Photo by Lawrence Lustig-Matchroom Sport)
CHESAPEAKE, Va. -- The first "official" round of play on Friday at the 2009 U.S. Open 9-Ball Championships began with 24 players. (Thursday night stretched well into the early morning hours, wrapping up around 5 a.m.)

Those 24 players, from a starting total of 216, will be trimmed down to just four by the end of Friday night. While some world-beaters like Ralf Souquet and Rodney Morris keep rolling through the winners side, the one-loss side has a ton of talent eliminating one another throughout the day.

The 3 p.m. round of matches features four matches on the winners side:
- Souquet vs. Chris Bartram
- Karl Boyes vs. Donnie Mills
- Morris vs. Kim Davenport
- Lee Van Corteza vs. Imran Majid

Bartram and Mills may be the most surprising names still left unbeaten. Bartram, long regarded as one of the most active action players in the country, has collected an impressive list of victims, including a second-round win over reigning champion Mika Immonen.

Recent winner of the Texas Open, Bartram is in the early stages of the transition from road player to tournament titan. While enjoying plenty of success in the Chesapeake Conference Center, he is still learning how to jump out of the gate quick in a short race-to-11 format.

"I was a really slow starter for a long time," he said. "But I've been able to start fast. You don't have time to start slow in a tournament."

No stranger to tournament play, Kim Davenport has strung together four straight wins to earn a spot opposite Rodney Morris on the TV table. Davenport, who just last night introduced friend and business partner Johnny Archer into the BCA Hall of Fame banquet, is facing former champ Rodney Morris.

A number of former champions are making runs on the left side, including Archer and 2007 champ Shane Van Boening. Van Boening looks set to advance with a strong 7-0 start against young gun Mike Dechaine, while Archer faces Jose Parica.

Play will run through the evening -- and most likely into early Saturday morning -- until just four players remain. The final is set for tomorrow at 7 p.m. (Eastern Standard Time).