Headstring News
U.S. Open: Mills vs. the World
Oct 24, 2009, 12:19 AM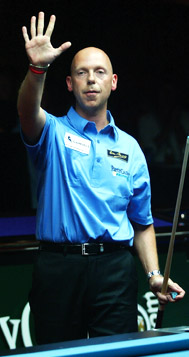 Souquet is in good form searching of his second U.S. Open title. (Photo by Lawrence Lustig)
CHESAPEAKE, Va. -- Donnie Mills came to this year's U.S. Open 9-Ball Championships with two goals in mind: advance far enough to make an appearance on the Accu-Stats TV table and, in the next logical step, win the title.

With an unbeaten run through the first six days of play, he has achieved the first goal. On Saturday afternoon, Mills will take on Ralf Souquet for the hot-seat.

A top player on the Florida-based Seminole Pro Tour, Mills will have his hands full with Souquet, who has been as dominant as expected. He breezed past the surprising Chris Bartram then powered through Filipino Lee Vann Corteza. Mills, meanwhile, has topped big names like WPA No. 1 Darren Appleton, Karl Boyes and Rodney Morris on his way to the winners-bracket final.

The two unbeaten players will be joined by a pair of world beaters on the one-loss side. Mika Immonen had possibly the most impressive run on Friday, both because of his precise play and sheer workload. The reigning champion strung together six wins throughout the day (not including his match from Thursday night that stretched into the early morning hours). Immonen played the role of eliminator, ousting a quartet of Americans -- Chris Bartram, Stevie Moore, Charlie Williams and Morris -- at the tail end of Friday.

He will face Corteza, who rebounded from a loss to Souquet to edge Kim Davenport in the last match of night, which ended just before 3 a.m. Davenport was the crowd favorite as he made a run of his own on Friday. He won a pair of hill-hill matches, the first of which came against friend and business partner Johnny Archer.

Just 24 hours after Kim introduced Archer at the Scorpion's BCA Hall of Fame induction ceremony, the two would meet on the TV table. Up 10-8 in a race to 11, Archer hung a 7 ball in the corner pocket. Davenport cleaned up that rack and ran the next to tie the match at 10. Davenport dropped the 9 on the break, completing a dramatic comeback, while eliminating his friend.

"I don't think it mattered who beat [Archer]," Davenport said. "I know it must have been hard for him. I won and it was still hard for me."