Headstring News
Souquet in U.S. Open Hot-Seat
Oct 24, 2009, 1:02 PM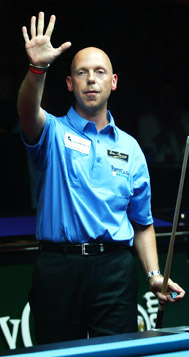 Souquet ranout from the break in the case game of the hot-seat match. (Photo by Lawrence Lustig)
CHESAPEAKE, Va. -- In the winners-side final that saw two huge swings in momentum, Ralf Souquet edged a determined Donnie Mills to earn a spot in this evening's U.S. Open 9-Ball Championship match.

From the start, Mills looked to be at ease under the bright lights of the Accu-Stats TV table. The 31-year-old Floridian took three of the first four games to build an early 3-1 lead. From there, though, he seemed to tighten up, playing a number of loose safeties that opened the door for Souquet. The German collected eight of nine racks to grab a 9-4 lead in the race to 11.

That's when Mills caught fire, routinely pocketing balls on his breaks and clearing tables. He took the next six games to get on the hill, 10-9, but a dry break -- leaving the 9 in the jaws of the pocket -- was all that Souquet would need. He cleared that rack, then ran out from his break in the case game to advance to his first U.S. Open final since he won in 2002.

Mills will face reigning champion Mika Immonen at 4 p.m. in the left-side final. Immonen has put together an inspired run through the left side that saw him win six matches on Friday. But this afternoon, the Finn looked to have his hands full with Lee Vann Corteza. The Filipino raced out to a 8-5 lead, only to see Immonen win the next six racks for a 11-8 win.

The race-to-13 final is set for 7 p.m. (EST) in the Chesapeake (Va.) Conference Center.