Headstring News
U.S. Open Final: Immonen v. Souquet
Oct 24, 2009, 3:45 PM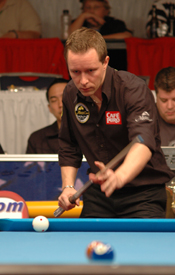 Immonen is one match short of winning his second straight U.S. Open.
CHESAPEAKE, Va. -- Mika Immonen's bid to be the first repeat champion at the U.S. Open 9-Ball Championships is still alive.

But just barely.

In a riveting left-side final, Immonen outlasted a heroic effort from Donnie Mills. Facing a 10-8 deficit against arguably the best player in the world, Mills, a part-time pro from Clearwater, Fla., took the next two racks to force a decisive case game. But on his break, which carried him through the winners bracket, Mills scratched in the side pocket.

Immonen took ball in hand, ran to a 6-9 combo and buried it in the corner pocket. The heartbreaking loss, on the heels of an 11-10 loss to Ralf Souquet in the hot-seat match, was an unceremonious end to what was the Cinderella story of this year's U.S. Open.

Moments after the loss, Mills was at a loss for words, left only to ponder what could have been.

"I just can't believe I went out like that," he said of his case-game loss to Immonen. "I didn't scratch on my break the entire tournament."

Immonen, meanwhile, has plans to make the most of his impressive left-side run. After losing in the second round to Chris Bartram, the "Iceman" ran through at least 13 opponents, ending with his win over Mills.

Immonen is one win from becoming only the second player ever to win back-to-back U.S. Open titles, after Nick Varner pulled off the double in 1989-1990.

Souquet is also eying his second title - his first coming in 2002 with a win over Alex Pagulayan. The single-set race-to-13 final is set to get rolling at 7:15 p.m. (EST) inside the Chesapeake Conference Center.